MAPS AND DOCUMENTS...
The intention is to upload various Moordown maps - and other documents if appropriate - which will hopefully show just how Moordown grew and developed, over the years.
To start, a map of Moordown from c.1957. It's quite large and detailed, so the pdf file is 12MB. You can download it by clicking on the image below...
At present we're saying 'c.1957'... The Epiphany church is there - so after 1954 - and the fire station at Ensbury Park isn't - so before 1960. Can you find any clues to date it more accurately?..... do let us know if you can....
------------
This next one is is an extract from Bright's Bournemouth map of 1893...
(You can left click on the image, to open it full size in a new window. Remember to use your back button to return to this page. Or you can right click and open the image link in a new tab.)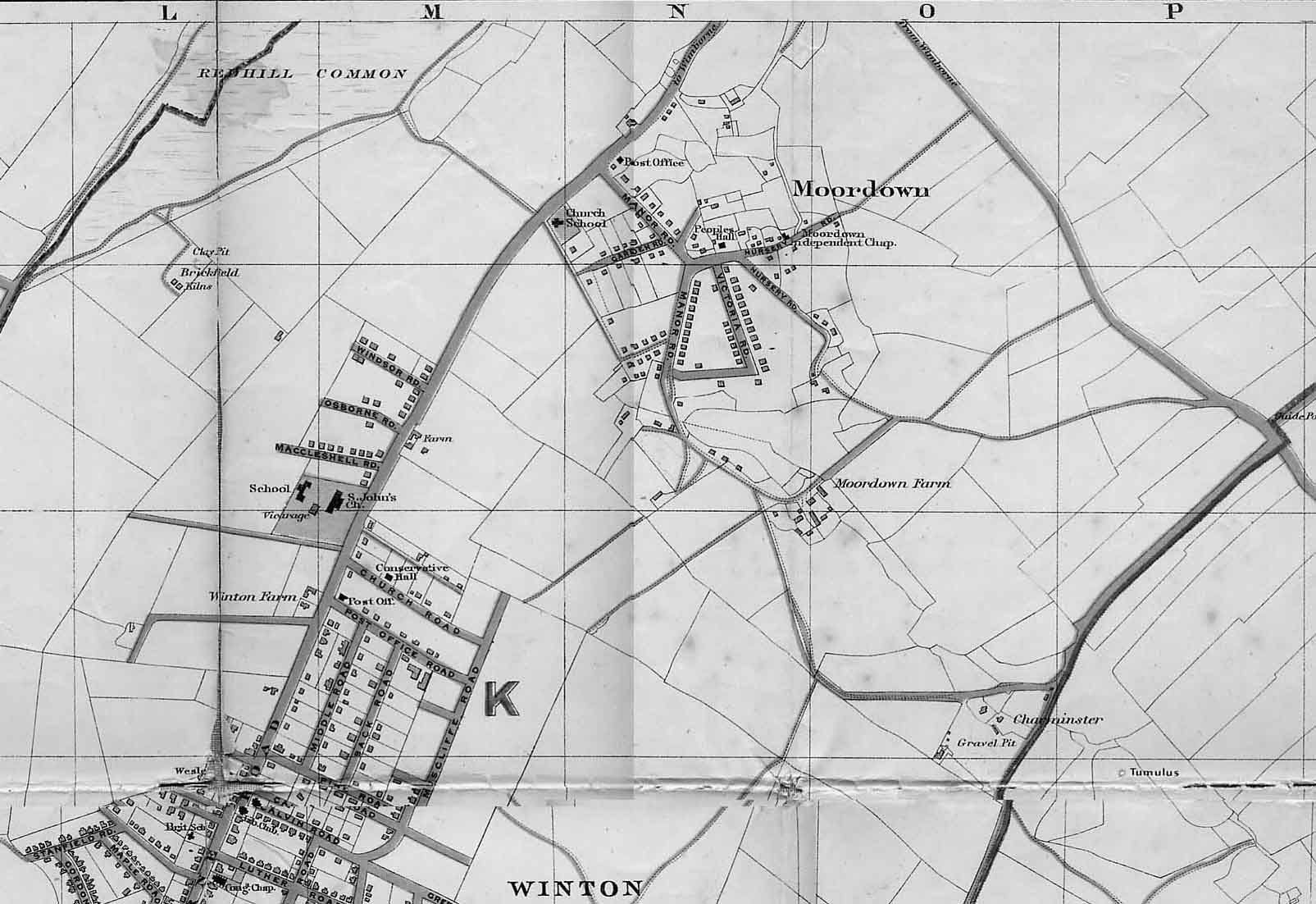 (You can download a complete colour version of that map from HERE . It's a 6M pdf file)
Interesting to see that, although Bournemouth itself was expanding rapidly by that time, there was still relatively little in Moordown itself.
Note the different road names in those days. Malvern Rd was then Manor Rd, Oswald Rd was Osborne Rd, Brassey Rd was Church Rd. and you'll find several others.....
Moordown Farm (later to be called Hunt's Farm) is shown, as is the farm house opposite the end of Osborne Rd. Although not named, I believe that's Burt's Farm. Reportedly the oldest of the Moordown farms? Built by Tregonwell himself, I'm told.
It does show the early part of Moordown already established. The cottages along Manor (Malvern) Rd, and in Victoria (now Parley) Rd. Forest View Rd was apparently just a branch of Nursey Rd then!
But not many buildings further north, along Wimborne Rd. Looks as if the 3 cottages shown just up from the post office were the ones that were destroyed by the Halifax bomber crash in 1944. Only the 'Hollies' on the other side of the road at that time, by the look of it....
-----------
By the time we get to the 1930's, things have changed...a lot!!....
This map is from about 1932. It's certainly later than 1931, because the new 1931 County Borough boundary is shown, and the copy is marked 'pre 1934'. Certainly there's no development shown north of Castle Lane, which started in the mid 1930's.
By this time of course, most of the roads had the names we know them by - although it's interesting to see that Valette Rd was then called 'The Vale'..... and the part of Mayfield Rd, between Malvern Rd and Bloomfield Ave, was then called 'Clarkson Rd'....when did that change?....
The Hollies is still there of course, but the post office appears to be opposite, not on the corner of Malvern Rd, where Cave's post office was later. When did that move..or is that a map error?..
Old St John's is still marked as a school - altough whether it was still operating as a school that late on, I need to confirm? Next door to the 'Tram Sheds'....
Altogether much more like the Moordown we know -- at least, south of Castle Lane anyway.....
These next two are from around the same time - one from 1931 , the second from 1938.
These are from Ordnance Survey maps brought into one of our meetings by John Wilson (thanks for these John!) They are of North Bournemouth, and show just how much the area north of Castle Lane - and the farmland of Hunt's Farm (Moordown Farm) around West Way and Moorvale Rd - was being tranformed by the big increase in house building before WW2.
Just click on either of the thumbnails below, to download a high resolution PDF version of each map. (they're only about 4MB each)
This next document is something completely different. It's a lovely example of the documentation - in this case an 'Indenture' - associated with the sale of a plot of land in Moordown, in 1847.
It describes the sale of the plot of land on which No. 9 Rose Gardens now stands. The price of this plot?... £24 ...and in true Moordown tradition, it was sold to a Mr. Troke !
Thanks to Mary Martin and Mary Worley (from 9, Rose Gardens!) for this fascinating document.
If your web browser is not configured to display PDF files - or if you would simply like to view the file full screen.... just CLICK HERE ....
(Remember to use your back button to return here!)
The next item is a summary of the Moordown householders listed in the 1911 census. Fascinating to see some of the names that crop up so frequently in the history of Moordown, and where they lived.
Also interesting to see which roads were already well developed by 1911 -- and which weren't! You can read that summary below -
( to view the file full screen.......... just CLICK HERE )